Indonesia is too damn good to put into words. Ok, I lie. I've managed over a thousand here. By far my favourite country out of the 43 I have visited, I have also been lucky enough to see another side to Bali from loosely calling a tiny village there 'Home' for four months.
The country is so vast, vibrant and dynamic you could spend a year exploring it and feel like you have been across a whole continent. Which, to be fair, given the size of it and the 17,000 + islands you have to choose from you can understand.
So many people simply head to Bali, declare it as heaven or hell and then sadly don't venture on. It might not be as well documented or have the travel infrastructure as some of its neighbours but that is why I fell for it so hard.
[1] Find Paradise You know when marketing departments come up with blatant lies. When Raja Ampat says 'The world's last paradise' you can't help but believe them. Think two flights and two boats. Think the world's most bio-diverse diving site. Think no phone signal, a handful of people and sharks swimming under your feet on the pier. Think Paradise.
[2] Swim with Jellyfish Head to Kakaban Island off the coast of Kalimantan (Indonesian Borneo) and dive into a lake of bright Jellyfish that blissfully sting free. Go pro ready?
[3] Meet the Dragons in Komodo National Park and Gili Laba, home to these giant lizards. If the bite doesn't kill you, their poison will. Luckily though, the trusty local guides will keep you safe to marvel at these beasts.
[4] Experience a day of pitch black silence The Nyepi festival takes place in March on the island of Bali. It is a day of silence, even the airport closes and you are not allowed outside or light to show. The night before is the magic, everyone goes crazy with drums, noise, fire and flames to scare off and call all the evil spirits. The next day, when they realise it is silent and no one is there the spirits leave for other places. A unique experience followed by a very boring (hangover?) day.
[5] Eat Nasi Goreng This staple rice dish is best enjoyed for under a dollar at a local Warung (snack restaurant). Ideally, on the side of a road sticking out of someone's house and eating with your fingers. But seriously, the food scene across Indonesia is incredible in all its forms. Even if you just stick to the Island of the gods, there are so many amazing places to eat in Bali.
[6] Complain about the traffic, pollution or anything at all in Jakarta But seriously, I have no idea why Jakarta gets such a bad rap. I kinda warmed to it after a week. But traffic complaining here is like weather moaning to the brits. So get ranting to anyone who will listen, especially your taxi driver… He won't have heard it before.
[7] Visit the home of the Flores Man The Homo Floresiensis were a small type of human who dates back 12,000 years. The Liang Bua cave on Flores was the discovery site in 2003. I have no idea how I didn't know this until last year.
[8] Decide if you love or hate Bali It's a big debate on the travel scene. I love it, but know it is far from perfect. Check out my post for the full story and give it a chance.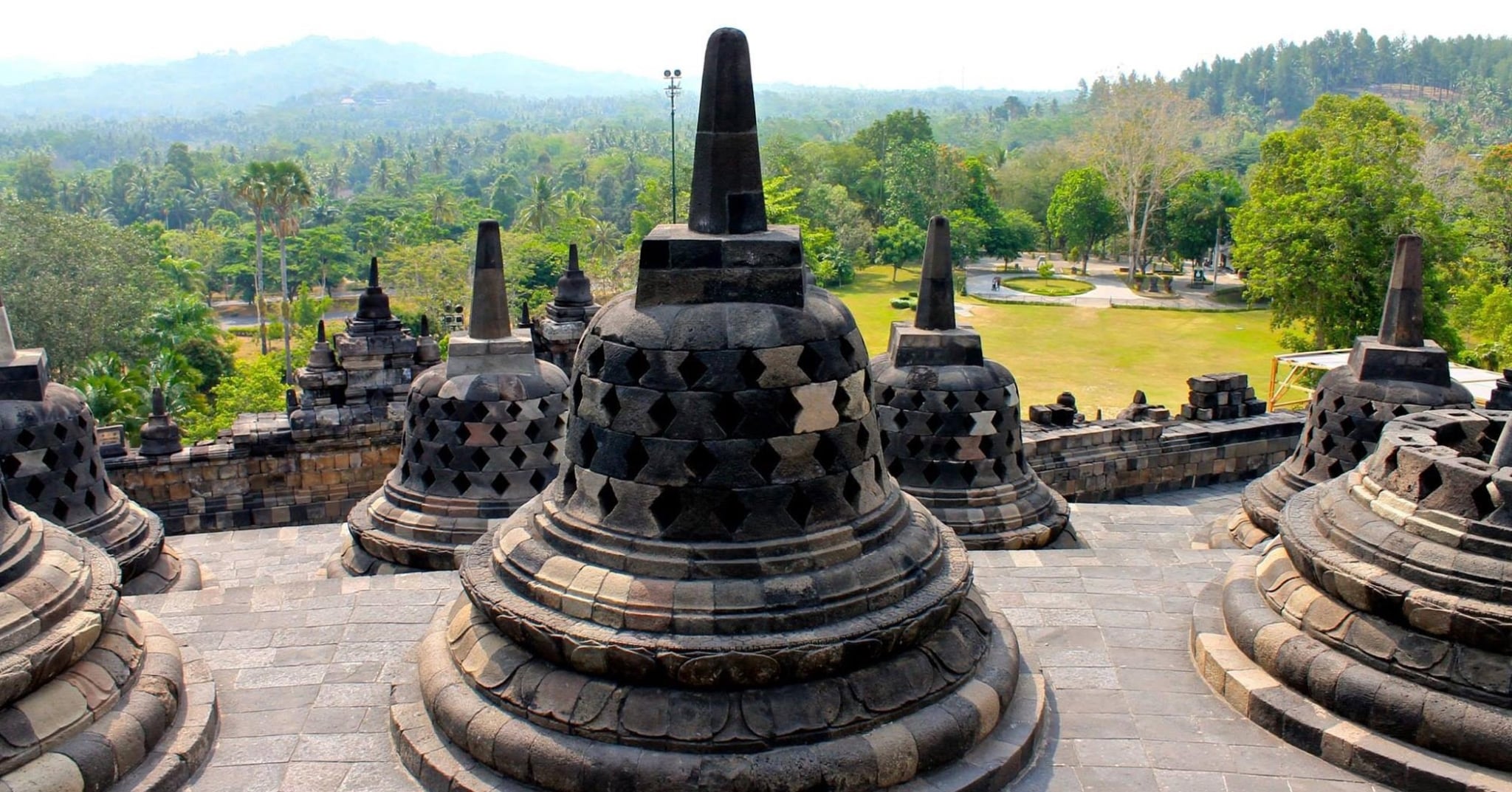 [9] Visit Borobudur temple… Why? It is the world's largest Buddhist temple.
[10] … and Prambanan temple You get two UNESCO world-class temples for your buck in Yogyakarta, this is the Hindu one and can be done on the same day if you like to overdose on religious sights.
[11] Discover 'colour changing' lakes The National Park in Dieng Plateau is home to this glistening lake. Head there early, pay a 'hey hey' fee to the staff and explore it before anyone else gets day access.
[12] Another lake, this time with blue fire Ijen, at the east of Java is a sulphur mining lake that has hellish working conditions for the underpaid guys who mine it. But when the sun sets, blue 'flames' dance out of the lake in the most eye-popping and lung-destroying of ways.
[13] Hang out with Orangutans Whether it is in Sumatra or Borneo, wild or at a rehabilitation centre, this is one of those moments you won't forget. Spend a few days seeing Orangutans in Tanjung Puting National park and completely switch off from the outside world in remote Kalimantan, this really is natures playground.
[14] Catch sunrise at Mount Bromo Bromo can be crowded and a bit shit. The horses don't get it good. Everyone can try to scam you OR you can not set your alarm, not make it to the viewing point, not go on a tour, manage to not pay the entrance fee and follow the botched job I did and really enjoy it…
[15] Have a date in the Mall If you are in Jakarta then you are likely to be in a Mall, near a Mall or potentially have moved into a Mall. The food courts serve up fresh and cheap food leaving plenty of dollar for the incredible sky bars and expensive cocktails you will head for in this mega city.
[16] Go to Ubud and be all hippy Because it was all the rage in the 80's and you need to get a Yoga Barn selfie apparently these days to prove you have made it to Bali…
[17] Go to Ubud and complain about the monkeys They will steal everything not pinned down. But you are also likely to get caught up in the moment, be a knob and put a banana on your head before screaming you have rabies. Don't be a knob, then you will be fine.